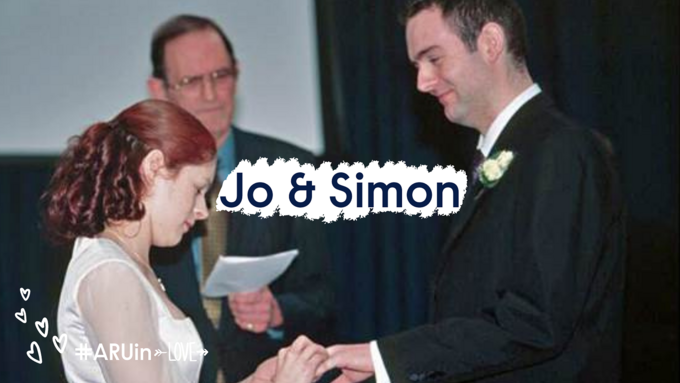 So, our story...
We both started at APU in the year 2000 (back when ARU used to be Anglia Polytechnic University). Simon had just done a Gap Year and was starting a three-year degree in Audio Visual Technology. I moved to APU after attending Homerton College to train as a teacher, but I stopped my course after two years. I decided I didn't want to teach! I began a 3 year degree in Health, Welfare and Social Policy.
We met on the first Sunday of the moving in weekend. The Christian Union offered to take new students to a local church. That's where we met and apparently he liked the look of me so went to the same Church as me :) Over our three years we ended up really involved with the Christian Union and had lots of friends in it that we are still in touch with now.
We got engaged in the July of our first year of APU, we then got married in our last semester of the 3rd year - March 2003. Which was a bit crazy with dissertations and final assessments due to be handed in. Our wedding was a proper budget one that only cost about £3k. It was at City Church, Cambridge and all our student friends played the main roles such as photographer, DJ, laying tables etc. Our honeymoon was in Dublin and was only for 4 days.
We moved to Surrey after we married and have been here ever since. This year, we will have been married for 18 years. We were foster carers for a few years looking after teenagers. Simon now works in post-production in the TV and Film industry. I have worked in charities and schools. We have two boys aged 6 and 10.