Congratulations, Richard Guy, on your OBE!
Richard Guy, an ARU alumnus and long-serving magistrate from Downham Market has been to the palace to collect his OBE!
"I was surprised and delighted to receive a letter in November informing me that I had been awarded the national honour of an OBE. The citation for the honour states 'For Justice, Mental Health Support and the Community in Cambridgeshire' and encompasses three areas of special interest for me.
My first involvement in the justice system was with the probation service in London for a short period and then subsequently I offered my services in Cambridge.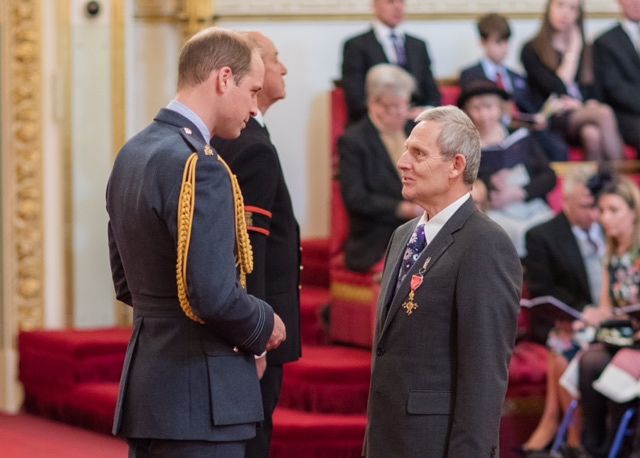 I have been involved with the Justice Service in Cambridge and more recently in the larger Cambridgeshire area for over 34 years, serving on a wide range of court panels and specialising more recently in domestic violence courts
As well as my work in the courts system since 1983 I have been chairman of two parish charities, worked for several secure psychiatric hospitals and now support several local causes in Downham Market.
Over these years and even earlier I have seen the complexities and distresses of personal situations and this experience, alongside my own long term struggle with a very disabling and random disorder which triggers sudden seizures and involuntary body movements has helped provide useful insight during my court work and the tribunal work at specialist mental health hospitals. As someone with a complex disorder I have a special interest in disability and diversity in the court system, indeed in all aspects of public life and I have tried to be an advocate for others with disabilities".
If you're an alumnus with a story to tell, we'd love to hear from you! Please send an email to helen.arnott@anglia.ac.uk