AHSS PGR Conference - Programme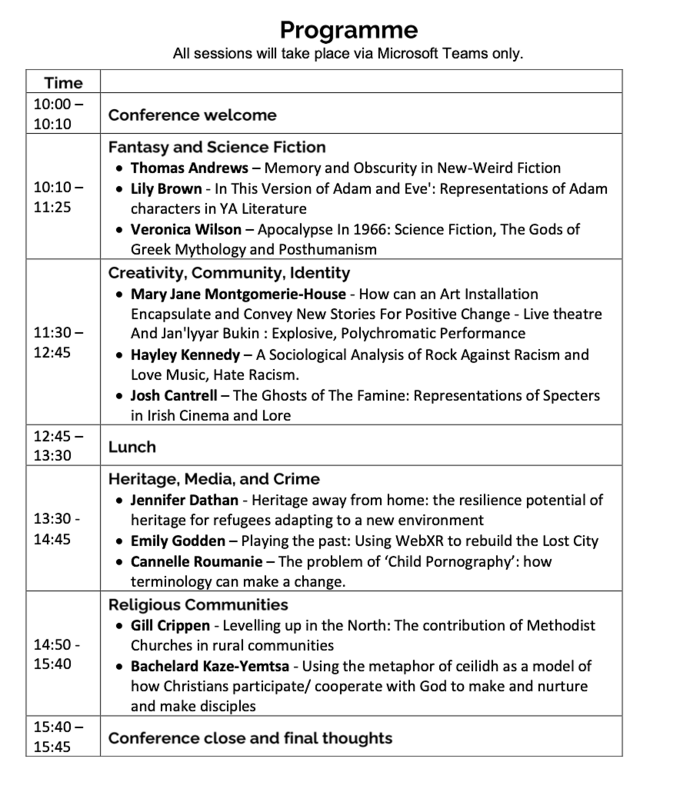 Memory and Obscurity in New-Weird Fiction – Thomas Andrews
The hard-to-define subgenre of sci-fi and fantasy literature which is referred to as the 'new-weird' is characterized by defamiliarization and estrangement in many of its central texts. This is made clear through its experimentation with development of human and non-human characters, creation of typically new-weird spaces ranging from wholly imagined worlds to micro localized deviations from earth, and often through a disorienting narrative perspective. With my short presentation for this conference, I aim to explain these traits in three central new-weird texts, and then suggest that memory is experimented with in new-weird fiction as a further defamiliarizing element to the genre. China Mieville's 2016 novella This Census Taker uses the young protagonist's flawed memory of a shocking event to disorient the reader and cast further doubt on the interactions between the community members in a bizarre mountain town. Chris Beckett's Beneath the World, A Sea (2019) and Jeff Vandermeer's Annihilation (2014) use memory in similar ways to disorient the reader in characteristically new-weird spaces. Both China Mieville and Jeff Vandermeer are considered central figures in the construction of the new-weird subgenre, and Chris Beckett's text adopts many similar new-weird characteristics.
'In This Version of Adam and Eve': Representations of Adam characters in YA Literature – Lily Brown
My research on how the book of Genesis has influenced young adult fantasy and science fiction has led me to analyse the characters in my chosen novels and their relationships to the characters they are based on or connected with. Previously, I have presented research on Eve characters and how they are portrayed as 'good girls' and mother figures. While most of the protagonists in my corpus of texts are young women, there are a small number of male protagonists including Arek in Exile from Eden. However, male characters in these texts are most commonly love interests, friends or helpers to the Eve characters.
In this paper I will address how Adam characters are portrayed in young adult fantasy and science fiction, referring to recent research on masculinity in young adult fiction, including Tom Jesse and Heidi Jones' 'Manufacturing Manhood: Young Adult Fiction and Masculinity(ies) in the Twenty-First Century (2020). In several of my texts, including Eve of Man and Eve, young women are warned against interacting with men and attempts are made to keep them separate. I will argue that the connection between the Adam and Eve characters is frequently shown to overcome these obstacles.
The Ghosts of The Famine: Representations of Specters in Irish Cinema and Lore – Josh Cantrell
As the Famine claimed the lives of over one million people from 1845-1852, the Irish history of the Famine is steeped with stories of the macabre and the unnatural. In all written and visual representations of The Famine that took place in Ireland, ghosts are frequently referenced and represented as ways of describing the victims of The Great Hunger in unnatural, gruesome detail. The very nature of early Famine representation is one of tempered attempts to put into words the unimaginable horrors of the sick and starving.
This presentation seeks to demonstrate the unique correlation of ghosts and this national tragedy by tracing the references to these specters historically through written accounts, visual representations and now, modern cinematic representations. Further, this presentation seeks to present a variety of reasons as to why observers and storytellers choose to represent victims of famine as living ghosts and the challenges that face modern Irish filmmakers in accurately representing their past.
Levelling up in the North: The contribution of Methodist Churches in rural communities – Gill Crippen
Methodism is currently the fourth-largest Christian denomination in Britain
In 1908 Methodism had almost 9 million members, at least four times as many adherents, 7 million Sunday scholars, 150,000 ministers and lay preachers. By contrast current Methodist statistics indicate that over the period 1980 – 2015 Methodist Church Membership declined by around 60%, from 606,400 to 200,000 with further decline to date. In addition, the age profile of the Methodist Church is heavily towards those over the age of 70, with churches finding it increasingly difficult to find lay volunteers.
My research examines rural Methodism: it is worth noting that the proportion of those who are over 65 is greatest in rural situations with 25% over 65 years of age compared to 17% for those who live in areas classified as Urban (DEFRA: Statistics - Rural England)
This presentation will look at the lived experience of some rural Methodist congregations in the north of England and whether they feel the same disconnect with London as do other northern communities.
What can small rural Methodist Chapels offer their communities and how far do they add to social capital?
Heritage away from home: the resilience potential of heritage for refugees adapting to a new environment – Jennifer Dathan
Heritage has long been seen as important to personal and community identity, but when separated from home can heritage take on even more importance and help individuals navigate and adapt in a new environment?
As conflicts endure and the impacts of climate change are increasingly felt, more people than ever are fleeing their homes in search of refuge, forcing many across borders. In these new places, refugees must adapt and find new ways to live.
Many studies have sought to identify sources of resilience among refugees, and traditions, culture, religion, and community, have been identified as key sources of resilience among refugee and other migrant populations. While the resilience potential of heritage remains relatively unexplored, such studies indicate the role heritage may play.
With increasing pressures to assimilate into new cultures and environments, particularly in countries with government's hostile to refugees, it is important to understand what the benefits may be of instead preserving heritage and supporting spaces and resources for cultural heritage practices – which is what this presentation will seek to explore.
Playing the past: Using WebXR to rebuild the Lost City – Emily Godden
This research works with WebXR as it provides the functionality needed to bring both augmented and virtual reality to the web, enabling humans to use hardware they likely already have in their pocket, their smartphone to create immersive spaces. Introducing Mozilla Hubs is an immersive social experience that is delivered through the web browser Hubs (Mozilla n.d.) is built using web standards meaning instead of being linked to a specific piece of hardware, Mozilla runs on most mixed reality headsets, from high end industry standard to a cardboard viewer or smartphone. To build the virtual environment for Hubs Mozilla have kindly developed a web based online 3D scene editor called Spoke. In building an interface much like a games engine that can handle an array of file formats the process of building interactive WebXR spaces for cultural heritage is accessible to anyone with a smartphone.
Using the metaphor of ceilidh as a model of how Christians participate/ cooperate with God to make and nurture and make disciples – Bachelard Kaze-Yemtsa
My DProf research arose from an apparent congregational and denominational (URC) struggle with confident faith sharing. I framed discipleship evangelistically and sacramentally as participation in Missio Dei (the mission of God).
I anchor my research on the suggestive image of Rublev's icon of the Holy Trinity and the conceptual model of Long, Stokes and Strickler's (2009) 'seven principles of the dynamic cooperation' for 'growing the church in the power of the Holy Spirit'. I connected the human-Divine dance of cooperation/partnership to Rublev's gazes, intimacy, union, and relationship between the Godhead and believers. I also focused on how believers join this semi-circle of the Godhead, aiming at evangelistic mission on the dancefloor (the world) and through the human-Divine dance ofcooperation/partnership. For LaCugna (1991, p272), 'the divine dance is fully personal and interpersonal, expressing the essence and unity of God'. She argued that believers are invited to imitate and be actively involved.
My social constructivist research consisted of 11 interviews, a focus group and a research diary analysis. This led me to describe the congregational discipleship as vicarious, covenant and pragmatic, with a faith-filled intertwining of belonging and believing. I use voices such as Door's (2017) to describe and critique the theory of ceilidh as a human-Divine dance of partnership in making and nurturing disciples.
Bibliography
Door, D., 2017. The Holy Spirit as source, power and inspiration for spiritual practice. Practical Theology 10(1), p5-10
LaCugna, C. M., 1991. God For Us The Trinity and Christian Life. New York: HarperCollins
Long, B., Stokes, P., and Strickler C., 2009. Growing the Church in the power of the Holy Spirit. Grands rapids: Zondervan
A Sociological Analysis of Rock Against Racism and Love Music, Hate Racism – Hayley Kennedy
The aim of this paper is to conduct a sociological analysis of two movements known as Rock Against Racism and Love Music, Hate Racism. The study will focus on the positive effect, power and influence of popular music on racial integration in Britain and how these two movements use the medium of music to disseminate their message. The research will cover the conception of the punk and reggae movement of Rock Against Racism in 1976 and the key events that led to it, the impact this had, the
people involved and their achievements. I will then build a further case study on the newer incarnation, Love Music Hate Racism and grime music.
This paper will also document the tensions and contests surrounding strategy, allegiances, self- definition and self-portrayal in the context of both movements, and consider how these key into academic debates of identity, (sub) cultures and power.
Later I will examine the contemporary setting, considering current trends and behaviour, music and identity. It will also look at some of the more negative aspects of the prevailing political mood including racism and xenophobia. However, I mainly want to focus on the blend of different cultures coming together and creating new music scenes and fashions in a positive light and how subcultures, media, authorities and even parents react to the creation of particular movements, how we can continue to push society forward in harmony and the best way to approach music events as a power for good in an enriched and multicultural Britain.
How can an Art Installation Encapsulate and Convey New Stories For Positive Change - Live theatre And Jan'lyyar Bukin : Explosive, Polychromatic Performance
– Mary Jane Montgomerie-House
Story telling has been part of civilisation since the beginning of time. In Hausa culture story telling is a real art form and is typically conveyed through the rich tapestry of Hausa oral tradition. The renowned Hausa linguist, Graham Furness has published widely on this together with his long term work at SOAS .
This paper explores how Montgomerie House's multi media Art in its real physicality (fashion, textiles, photography, poetical works, performance art, paintings and drawings) in the form of a large scale Art Installation acts as a creative agent for positive change. This is visually demonstrated within the Art Installation in Montgomerie House's poetical muslin cloths which highlight plight of the indigenous Hausa cotton farmer in Hausaland, Northern Nigeria. The paper also investigates how the Installation Art acts as a vehicle of non verbal communication with multi narratives such as, rejuvenation, hope, and well being as well as being an active visual harbinger for sustainability and zero waste fashion (see Montgomerie House's wrapper cloths and their multi functionality within the Art Installation) The paper discusses how the Installation Art visually navigates issues of social and wellbeing in the theatrical interplay of live theatre and performative interaction and display. It also highlights a transformation process from negative to positive through practiced based art research.
Footnotes
1. School of African Studies, University of London.
2. Inspired by the Hausa tribe of Northern Nigeria and Montgomerie House's in country experience whilst teaching in Nigeria. As well as Montgomerie House's interconnection with Scottish ensembles and textiles as part of her own cultural identity.
3. Montgomerie House's Number 7 Art Installation 17th January 2022 - 28th January 2022, in the Ruskin Gallery , Cambridge School of Art, Cambridge
The problem of 'Child Pornography': how terminology can make a change – Cannelle Roumanie
When researching academic papers or law articles on Child Sexual Abuse (CSA), the term 'child pornography' is still often encountered. Some media or law enforcement still utilise this term as it was commonly used a few decades ago. This paper gathers the available academic literature from 2010 to 2021 on the topic to highlight the need for a change. The paper argues the terminology 'child pornography' perpetuates victim-blaming and re-victimisation. Furthermore, it implies that there is aform of consent from the child to engage in sexual activities, which is not possible due to the coercive and/or abusive nature of the relationship. CSA material only depicts a crime in progress. The paper also underlines the problem of media using this terminology, such as American newspapers. It further highlights the problematic nature of this terminology, not only for victims but also for other types of sexual abuse. Moreover, separating abuse from pornography is essential to respect the sex workers who work legally and consensually. Using the term CSAM (Child Sexual Abuse Material) stresses the abusive and/or exploitative nature of the relationship, separating it from consented and legal pornography. This research shows the importance of terminology. The results can be expanded to other types of abuse.
Apocalypse In 1966: Science Fiction, The Gods of Greek Mythology and Posthumanism – Veronica Wilson
The focus of this presentation is the 1966 science fiction novellas of October the First is Too Late by Fred Hoyle and Roger Zelazny's This Immortal. They were written at a time when the avant-garde and socially critiquing New Wave period of science fiction writing broke with earlier traditions of stories that glorified technology and adventures in space. Both texts reflect on the aftermath of human induced apocalypse and the rebuilding of human culture and the restoration of a devastated Earth. Greek mythology and the gods play a significant role in the process. I shall analyse some of the similarities and differences of the two science fiction texts to identify why, and how, classical Greek culture and the mythological gods have such a significant presence, and how the concept of posthumanism is addressed. I shall be considering the two main posthuman themes of transhumanism and post-humanism and discuss how the novels foreshadow the accelerating debates about posthuman ideology later in the century.