ARU's first Sustainable Fashion Week!
Coming in October 2020!
 
Fast fashion is changing our buying habits and creating a culture of overconsumption - without us even noticing!
In the UK, we buy more clothes per person than any other country in Europe, and every year around 300,000 tons of textiles end up in household black bins, sent to landfill or incinerators. The volume of clothing produced today has already resulted in the industry contributing more to climate change than aviation and shipping combined, consuming lake-sized volumes of fresh water, and creating chemical and plastic pollution. And fast fashion giants are not going to stop producing - as long as there is demand.
These issues, and the lack of awareness about the impacts of fast fashion, were the inspiration for ARU's first 'Sustainable Fashion Week'. Featuring workshops and guest speakers, the week was due to take place from Monday 30 March to Friday 3 April 2020, but has been postponed due to the Covid-19 outbreak. The Sustainable Fashion Week will now take place in October 2020 and is open to all students, staff and the public!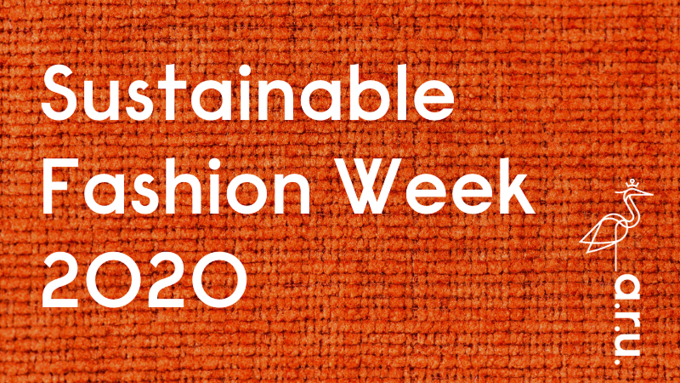 Talks and Workshops
In preparation for week, we have invited internal and external speakers to talk about fast fashion and sustainable alternatives to it. To kick-off the week, Dr. Helga Hejny and Dr. Miquel Roca-Lopez from Anglia Law School will talk about the devastating impact fast fashion is having on people's lives and the planet.  
Dr. Hejny specializes in Human Rights Law, and will talk about how fast-fashion industry is impacting the international protection of human rights, drawing on examples of developing countries used as cheap sources of labour by fast-fashion giants.
Dr. Roca-Lopez will discuss the shipping industry, and the role it plays in the fast fashion industry.
Tim Reeves from the British Heart Foundation will talk us through all aspects of the retail and recycling work the British Heart Foundation does. Tim will explain how BHF is working with Universities to allow for 1000s of tons of clothing to escape being dumped at landfill and to be used again.
While educating the attendees about fast fashion, a secondary aim will also be to showcase sustainable alternatives. We invited Dr. Beatriz Acevedo, an artist-academic, passionate about Education for Sustainable Development and a member of Go Green to host a "Raw Tag Workshop". Beatriz has designed a live swapping event, where she will encourage attendees to swap clothes with each other as an alternative to buying new!
As a follow-up to Beatriz's workshop, Dr. Wendy Moody – Senior Lecturer on the BA Fashion Design Course - will talk about her research into the wearer experience, and how the wearers can re-experience their old clothing - without the need to buy or waste!
Fashion show
The highlight of the week, and closing event, will be a catwalk featuring work by Fashion Design students who will present their sustainable outfits made of recycled wedding clothes that were donated by local Wedding Boutique –The Tailor's Cat. Two local sustainable fashion initiatives, The NuWardrobe and The Serpentine Swap, will also provide us with a number of pre-loved outfits to demonstrate that there is no need to buy clothes to look fresh and fashionable - you can simply swap with like-minded people in your local community, or buy vintage and second-hand!
As an organizing committee, we are very much looking to see you all at the Sustainable Fashion Week in October 2020, and we are open to any questions and ideas you may have as to what other events could be beneficial for the students.
Over the coming months, we plan to post a series of interviews with the speakers and workshop hosts mentioned above, so make sure you checking newsfeeds for new updates.
Get in touch!
If you would like to tell us your ideas, contact:
Kate Zenina (Volunteer Project Manager for Sustainable Fashion Week 2020): ekaterina.zenina@student.anglia.ac.uk