Sustainable Fashion Interview: British Heart Foundation
The British Heart Foundation's University Account Executive, Tim Reeves, was invited to speak about the work done by the British Heart Foundation during ARU's first Sustainable Fashion Week, and we are pleased to announce that Tim will be joining us to talk about the retail and recycling work the British Heart Foundation do ahead of ARU's Sustainable Fashion week in October 2020. Below, we asked Tim some questions about sustainability: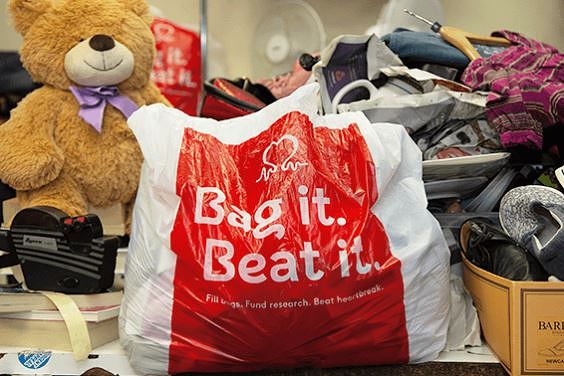 1. How does the British Heart Foundation work with education providers to help them achieve sustainability goals?
The British Heart Foundation as a charity resells 94% of all the clothing donated to us. Last year alone, we managed to prevent 17,000 tonnes of clothing from going into landfill. In 2011, we began our Pack for Good campaign in Birmingham with Birmingham University, as it was recognised that there was an opportunity that could bring massive benefits to us as a charity while also ticking a lot of boxes for the University around sustainability and reusability.
In that first year, with just one smallish campaign, over £13,000 was raised for the BHF through the sales of donated clothes and items from the University. Since then, we have grown our campaigns exponentially.
We now work with 100+ Universities, and two new ones came on board in 2020!
As just a small example, to date our Bristol University campaign has generated over 1 million bags of donations - and this is still only the tip of the iceberg! Opportunities also exist with the growing number of private accommodation providers and potentially colleges. Also, we recognise that many opportunities exist within Universities, where we could work across departments to help student-led sustainability projects and events, such as Green weeks and Sustainability weeks.
2. What does the British Heart Foundation aim to achieve with the help of people's donations?
Every year, 98% of all monies raised by the British Heart Foundation goes into medical research to help people with existing heart conditions: from Heart disease, through Vascular Dementia to Diabetes. Our aim as a charity is to stop the pain caused by premature deaths through these medical conditions, and to develop an overarching message around preventative work to reduce the chance of these conditions arising in the first place. This we do through anti-smoking campaigns; healthy eating campaigns and reduction in alcohol intake campaigns as well as raising people's awareness about the needs of both old and young people suffering with life threatening Heart conditions.
3. Does the British Heart Foundation work with big brands or other profit and non-profit organisations to help make their business more sustainable?
Our aim, fundamentally, is to raise money to fight Heart Disease. The model that we use - which is to encourage people to donate unwanted goods to us to raise that money -appeals to both individuals and larger companies. We have done much work to develop these opportunities and this has meant, just as we work with Universities, that many large corporates have worked with us through the mode of direct Fundraising; staff donations of unwanted items and also donations of end of line stock.
With our large Home stores that sell Furniture, we are also able to work with large Furniture retailers to resell returned items or unwanted end of line product. Wherever there is an opportunity to reuse through resale, we can offer a service to support this - and it is key to our nature as a charity, and our relationship with our partners.
4. Is there anything that you wish more people knew about your organization and the amazing work you do?
The most important thing for us is to get our message out to the public at large. We do advertise through media as well as social media platforms, but the best ways of getting our message across is through the visual nature of our retail outlets and, far more importantly, through the work we do with the local communities and the country as a whole. This is where our relationships with universities is key. It allows us to get our message out, and to increase the number of things we can do as a charity to help all aspects of society - whether that be through medical research, reuse of unwanted goods or helping to sustain and improve the environment.
Interview by Kate Zenina, Volunteer Project Manager for the Sustainable Fashion Week.
Have any ideas or questions surrounding Sustainable Fashion Week 2020 at ARU? You can get in touch with Kate Zenina, Project Manager at: ekaterina.zenina@student.anglia.ac.uk