Royal Literary Fund Writing Fellows
IMPROVE YOUR ACADEMIC WRITING
A free, confidential service to help you improve your writing skills
Students of any discipline, at any level of study (from 1st year to postgraduate) – and staff – are welcome to book a session.
Royal Literary Fund Writing Fellows are professional, published authors whose role is to help you strengthen your writing.
Sign up for a one-to-one tutorial to help you:
Plan your study time
Focus your reading for essay, dissertation or thesis writing
Express your ideas more clearly
Answer grammar and punctuation questions
Discover reading to improve your writing and editing skills
Increase your writing skills with the aim of improving your grades
Improve academic writing – essays, reports, theses, dissertations, book chapters
Please note that RLF Writing Fellows do not undertake proofreading or EAP tuition.
YOUR RLF FELLOWS AT ANGLIA RUSKIN UNIVERSITY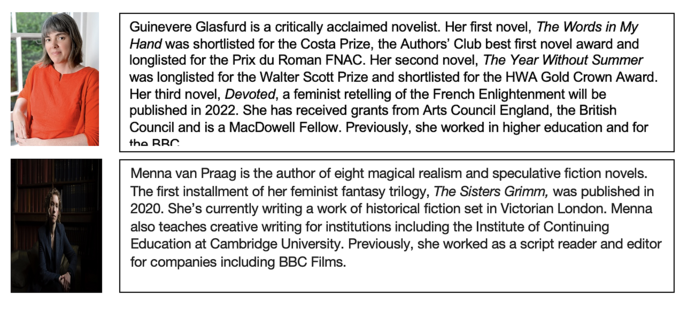 TUTORIAL TIMES
Up to 50 minutes per session, from 9am-4pm. Appointments available during ARU term time only: every week during trimester 1 & 2, with limited availability during trimester 3. BOOKING A TUTORIAL: All tutorials take place online. Email to book an appointment:
guinevere.glasfurd-brown@rlfeducation.org.uk AVAILABLE TUESDAYS & WEDNESDAYS
menna.vanpraag@rlfeducation.org.uk AVAILABLE THURSDAYS & FRIDAYS