Where will your summer placement be?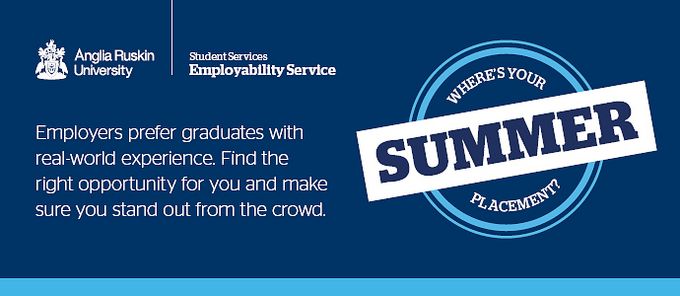 Placements, internships and work experience are so important in helping you secure your dream job. 
Employers are more drawn to gaduates with real world experience, so use your time wisely and secure your placement. 
The summer is a great time to get some experience in the world of work added to your CV. We can help you find a suitable placement, just come along to our drop in sessions.
See our top summer work opportunities.
Have you thought about a placement year? 
For a full list of courses offering the opportunity for a placement year, please contact the placements team.
Contact Us
Email: placements@anglia.ac.uk | Call: 01245 68 4274

Drop in: Monday – Friday, 12:00pm – 2:00pm, HEL073, Cambridge (Employment Bureau)
Monday – Thursday, 12:00pm – 2:00pm, Tindal, 2nd floor, Chelmsford (Student Services)